Frequently Asked Questions
Q: When should I schedule my interior paint job?
A: The best time to schedule an interior paint job is during the months of November-May. Summer months are typically backlogged with exterior projects, so it can be difficult to schedule interior jobs. Whenever possible, we will work to schedule the job on a date of your choice.
Q: When should I schedule my exterior painting job?
A: The best time to schedule an exterior paint job is during the months of May-November. Our schedule fills up quickly so the sooner you contact us, the more flexibility we will have to schedule the job for a date that is most convenient for you.
Q: Are you insured?
A: Yes, to protect our customers and employees, we carry both liability insurance and worker's compensation.
Q: What are your work hours?
A: Our typical work hours are 8:00 a.m.-5 p.m. Please let us know if we need to make special arrangements based on your schedule.
Q: Will you work on my project every day until it is complete?
A: Yes. Our team is committed to seeing your project through to completion as efficiently as possible. Weather and special circumstances beyond our control may cause delays, but we will work on your project daily until it is complete.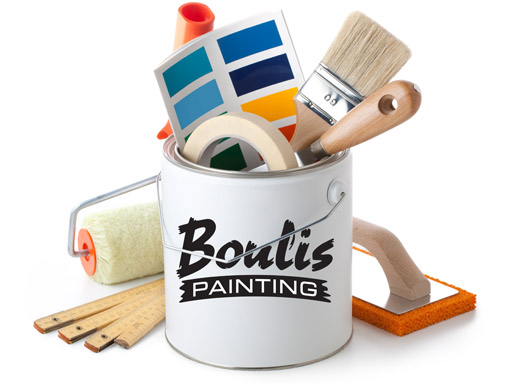 Q: Do I need to be home when you are working?
A: No. Whether you are planning on having a project completed while you are on vacation for the week or at work for the day, we can arrange to have the work completed while you are gone. Your home's security is very important to us.
Q: Who does the painting?
A: Boulis Painting employs our own staff of qualified, trusted painters. Most projects will have a crew of 1-3 painters, and we do not subcontract any work to outside companies. Nic Boulis, owner of Boulis Painting, will visit and oversee the quality and progress of all jobs.
Q: Do I need to provide the paint for my project?
A: No. Our estimates include the cost of paint and materials. If you have a paint preference or already have the paint you want, we will accommodate your request. We are committed to making your next paint job as painless as possible.
Q: Where will you store your tools and materials?
A: We do our best to stay out of the way when working on a project at your home or business. Our tools and materials are cleaned up daily and, for smaller jobs, stored in a small designated area, such as the corner of a garage. For larger projects, we will need an area on or near your driveway to store our small trailer.
Typical Hours of Operation:
Monday thru Friday 8:00 am - 5:00 pm